Originally published on UBA India on Sep 26, 2017
Sports have a way of bringing out the best in us as they push us to perform feats which we may have considered beyond our capabilities. External stimuli enable us to tap into our potential and surprise ourselves with what we are capable of. It is only when we are going up against an opponent who challenges us in every way that we can ascend another level with our performances. There are few other sports in which competition is as crucial a factor in elevating one's game than in basketball.
Who wants it the most?
In UBA, the pace of play is a breakneck blur, the physicality is powerfully palpable and you can sense the muscles of the players twitching and firing as they charge across the court like every possession could be their last. There is a crackling energy in the arena, born out of 10 speeding athletes blazing across the court. If you aren't quick or fit enough, you'll be left behind in the dust while the opponent runs you out of the gym. If you aren't strong enough, you'll be mauled in the paint and cast aside like a bug on the windshield when your opponent takes it in. You can forget about pulling down a rebound if you don't want it bad enough compared to your opponent. Dribbling a ball up court can seem like trudging up a sandhill when you have to face a full-court press from the best players in the country. You'd be lucky to get a glimpse of the rim on offense seeing as how tightly and ferociously players are marked in UBA.
The competition is intense and unforgiving. It is also the best thing a player could ask for.
There is a limit to how good one can be by practicing in a vacuum. One of the main ways to get better in basketball or any other sport is to compete at a high level against opponents who push you to raise your limits and alongside teammates who elevate your game. When a player suits up for a UBA team, they know that they are going to be right in the middle of the most intensely competitive basketball action in the country.

Strap yourselves in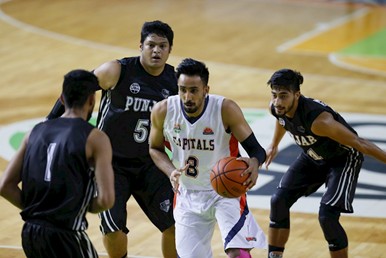 Team sports can often see some players carve a niche for themselves on their squad and get inflicted by a tendency to rest on their laurels. There is always someone hungry to outwork and outplay for a coveted spot on a UBA team roster. Over 90% of the players in UBA Season 4 averaged more than five minutes per game, ensuring that everyone had a chance to prove their mettle and no player could afford to take their minutes for granted. The spoils go to the one who is willing to work the hardest, and the steadily rising level of competition in UBA is pushing the players to raise their game to the next level.
While there are limited slots on the national team, India now has 8 UBA teams which field the best players from the country along with international talent. Playing on one of these teams is an honor afforded only to the very best. Playing in the UBA provides the players with an opportunity to go up against the highest standard of competition in the country. On one hand, it provides the youngsters a chance to test their mettle against the very best and make a name for themselves. On the other hand, it allows the established players a chance to battle it out on the national stage against the best competition mustered in the country. When great players take to a court, the result is often greater than the sum of their parts, and that proved to be the case as triple-digit scores became the norm in Season 4.
Iron sharpens iron
The melting pot of talent on the court forces the players to raise their game and to push themselves to levels they previously hadn't attained or imagined themselves capable of attaining. The benefits can be accumulated off the court as well. When you have the best players in the country mixing with immensely talented players from abroad over the course of a UBA season, it creates a unique platform for an exchange of ideas.
India's veteran superstar Jagdeep Bains spoke of one such instance about his teammate Alex Scales in Season 4 (Former NBA and D-League player). "Alex is an ageless wonder (Scales was a sprightly 38-year-old in UBA Season 4). This was the first time I got to play with an NBA player. He would practice day and night and there was a lot I learned from being around him. What he's taught me about preparation and practice, I now feel like I can extend my playing career by a few more years than what I thought previously."
UBA Season 4 saw the best players in India play against and alongside professional players from USA, resulting in the most competitive basketball action ever witnessed in India. Every single possession could spell the difference between a win or a loss. One rebound could be the deciding factor between playing in the semi-final series or having to battle it out in a play-in game to advance to the playoffs. No quarter was given and none was asked for.

A new era ushered in yet again
The days of players walking the ball up court were a thing of the past. As Jody Basye, UBA Director of Coaching tells the players, "Beat the ball! Beat the ball up the court!" A sense of urgency was infused in the players and its magnitude was amplified manifold in each successive season of UBA.
When UBA Season 5 tips off and you see a player bringing the ball up court, the player knows he's going into the teeth of the stingiest defense he's ever faced. He knows that if he lets up for even an instant, his opponent will strip the ball away and lay it at the other end before he can turn around. He also knows that four other warriors alongside him have his back, the best teammates he's ever had. He knows that nothing comes easy in life or in basketball and that he is in for a nail-biting grind. And the player smiles to himself. This is the moment players train, sweat, bleed and sacrifice for: To compete at the highest level of competition in the country in front of family, friends, and fans.
The most entertaining games, filled with emotion and drama, evolve from a clash of uber-competitive players and teams. When Season 5 tips off, the game is going to be raised to another level once again.