Originally published on Sportskeeda on 12 Sep 2012
7 time NBA Champion Robert Horry was in action today with kids from Love in Action, an NGO in Delhi which has been working with underprivileged kids for over three years. Ride with Robert was after his day's work here. I wasn't actually in the car with him. That would have been something. This was the next best thing. Getting to talk to him over the phone after his day's clinic in India. I don't have his direct number but numbers don't really mean much. Robert is a guy whose highest scoring average in a season was 12 points per game. His career stats read thusly:
7 ppg.
4.8 rebounds per game.
2.1 assists per game.
If you attach importance to numbers, those don't seem too remarkable. Robert has had a litany of clutch shots all throughout his career which earned him the moniker Big Shot Rob. If you insist on numbers, think about these numbers: 7 championship rings. More rings than he can wear on one hand. Here's what a former teammate and fellow champion Manu Ginobili had to say about Robert Horry and how what he did on court goes beyond numbers:
"He's a guy who makes his teammates calmer, knowing that he's going to do something in most games, especially in the playoffs. Sometimes it's not a big shot. Sometimes it's just a block, a rebound, a steal or taking a charge. He always does something that's going to help this team win."
It's about the intangibles. You can't always measure contribution by numbers. Points per game don't tell you when or how the points were scored. Robert is only here for a week and change. The impact of his visit and his interactions with kids goes beyond the number of kids he meets and the number of hours he spends with them. A brief interaction with a larger-than-life persona can make a difference in a kid's life.
___________________________________________
Basketball is more than a game. It's a life tool. Kids need direction and guidance, but they can't be spoon-fed these things. Sports is one way to get in touch with young minds and keep them off the streets. Give them something which they can put their time in and recognize that what they are getting out of it is what they are putting in it.
That's a fact recognized by many NGOs, the NBA, and the BFI. 7 time NBA Champion Robert Horry was in action with kids from Love in Action, an NGO in Delhi, which has been doing this for three years, introducing kids to basketball and allowing them to play the game. Robert Horry is in Delhi, for the clinic with children from the NGO – Love in Action at Somerville School, Vasundra Enclave. Horry is here for the opening of NBA 3X presented by Sprite to be held on 15th and 16th September. I had a brief chat with him today. Here are the big man's thoughts, skipping the preliminaries of me hopping like a fanboy: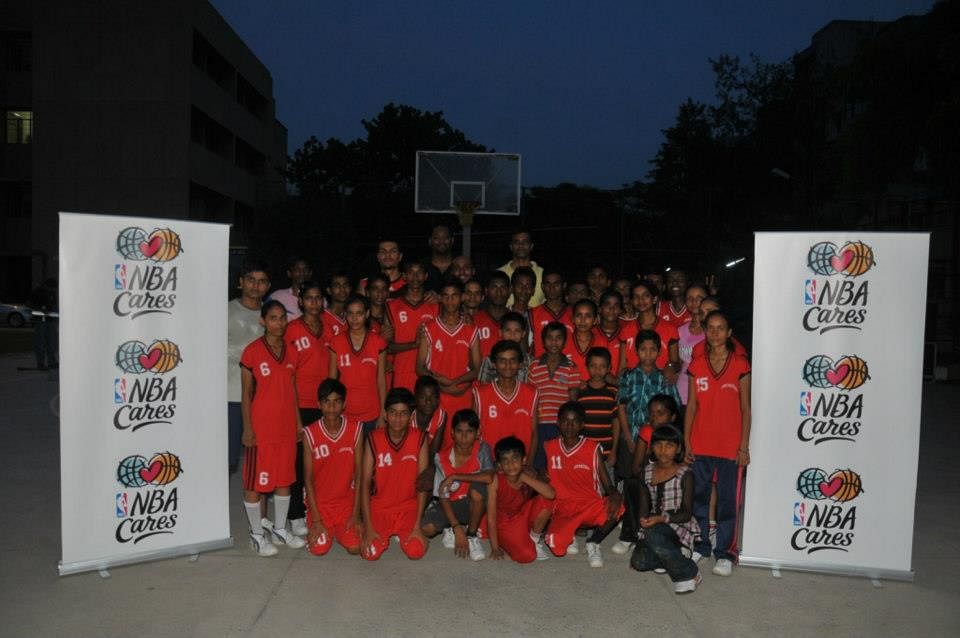 Me: Hey, thanks for your time. How was your day working with the kids?
Robert Horry: "I had a great time today. It's always refreshing to work with receptive kids eager to learn the game. These clinics are about spreading the love for the game and letting the kids discover that if they put their time to something they will get something good out of it."
Me: You've been with kids here in India and back in the USA. The perception is that kids over there have a better shot at making it big in basketball. What do those kids do differently?
Robert Horry: "It's important for kids to learn basketball and understand it. They all start off the same, be it in India or USA. Shoot from the elbow. Dribble the ball. The ones who make it are those who apply themselves to it with proper guidance."
Me: Some people may be concerned that these kids may be disillusioned when they cant turn pro so what's the point of doing these drills. These clinics aren't about that.
Robert Horry: "No, kids should play the game for the love for the game. For the joy of it. Earlier I enjoyed playing football more. I didn't make a career out of that. Look around the world. You can put kids from all corners of the world on the court and although they may not have anything in common when they play they speak the global language of basketball. Basketball is a common unifier that brings people together. It's about the love for the game. The NBA doesn't do all these clinics with the end goal to make all-stars. It's about reaching out to the kids and spreading the language. India is a country with good potential for the game."
Me: How important is it for aspiring hoopsters to read books?
Robert Horry: "It is important, but I don't really know of any one book which would improve your game."
Me: Why did Phil Jackson give you the book Gone Fishing? You go fishing when you lose in the playoffs.
Robert Horry: (Laughs) "Thats just something he did. Different coaches have different ways to reach out to players."
Me: Did you see yourself coming full circle with Shaq, first playing together then hosting programs on ESPN?
Robert Horry: "No I didn't see that one coming. I'm not one of the regulars on that panel. I just join in come playoff time. Commentating takes a large chunk of time from your life. During my playing career, I was away from my home and family for long and I want to make more time for that now."
Me: Your foundation, does it involve conducting basketball clinics too?
Robert Horry: "No that's more of providing support economically to those who really need it."
Me: How has India matched your expectations of it?
Robert Horry: "I've traveled over many countries. I never have any preconceived notions about a place before I go there. I like to keep an open mind and form an impression on my own. People may say India will be hot, will be cold or whatever but I don't form an opinion before experiencing it on my own. I like what I've seen thus far here."
Expect that to continue over the next few days as Robert makes his way around Delhi spreading the love for the game. Tomorrow he'll be working at the Generation Adidas Player's clinic with 40 lucky kids.
Ride with Robert Horry in India: Generation Adidas Clinic
Robert Horry's ride in India continues. He is here for the NBA 3×3 to be held over this weekend at Great India Place, Noida. Action starts from 12pm on Saturday.
Yesterday Robert worked with kids from the NGO Love in Action which works with underprivileged kids. Here's a recap of that clinic: Ride with Robert Horry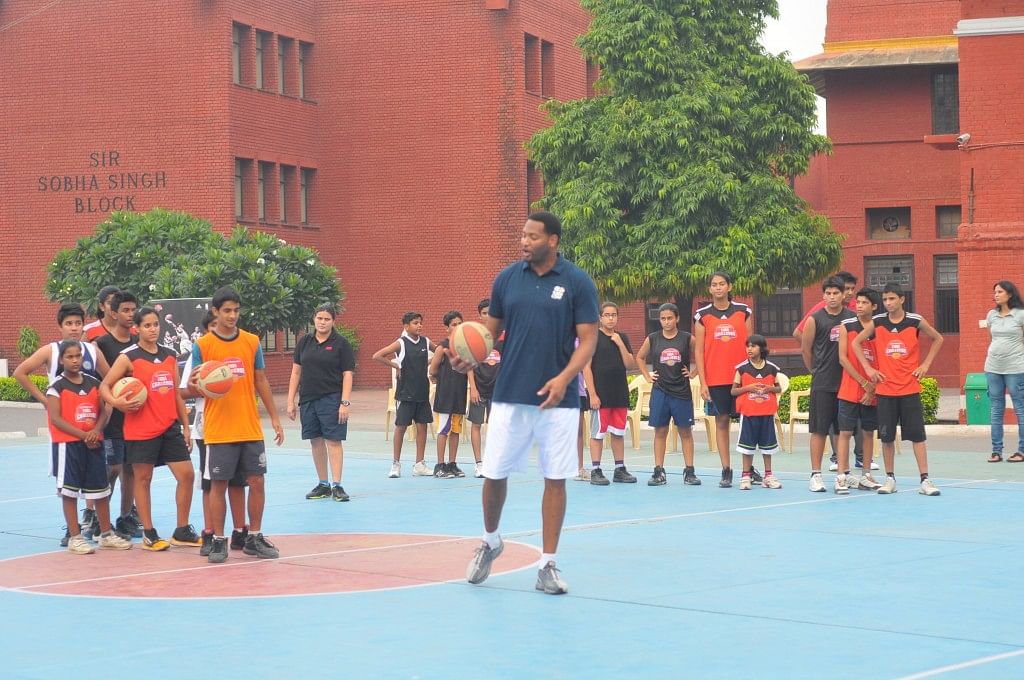 Today it was something of a different kind. Robert was at the Generation Adidas Players clinic held at Modern School, Barakhamba. This involved 40 kids who participated in Delhi's edition of the Mahindra NBA Challenge. 40 kids were chosen among the participants from Under 13 and Under 16 divisions of the Mahindra NBA Challenge.
For the Generation Adidas Clinic, 8 kids among the 40 are chosen to receive training for a year along with Adidas sponsored goods.
Here's what Robert had to say today:
Me: Hey, this is a different bunch of kids today. What was it like working with them?
Robert Horry: "This Generation Adidas clinic is more about identifying the next generation of top-level talent and to put them in a position to take their skills further. These kids were great, it's good to see the joy and happiness with which they approach the game. During my interactions, I can't give individual time to everyone to the extent that I wish. I just keep giving them a lot of tips and dump knowledge on them. Hopefully, they will memorize this stuff and add it to their game."
Me: What's been the most impressive thing about the kids you've come in contact with?
Robert Horry: "It's been pleasantly surprising to watch their willingness to learn. Sometimes you can talk to kids and what you say doesn't come across. With these kids they pick up things really fast."
Me: You're one of the greatest clutch shooters in history. Often selective amnesia is used with clutch shooters. People remember the makes and forget the misses. What's your advice to young shooters on how they should better prepare to perform in clutch situations?
Robert Horry: "You are only as good as the last shot you knock down. The key is to go hard in practice over and over. Repetition. When I made those shots, when I shoot, I don't think about anything. I just catch and shoot in rhythm. There's nothing to think about in the moment. Just do what you are told."
Me: What are the questions you've been asked most often in India?
Robert Horry: "(laughs) First, what's my favourite Indian food. Second, When can we see an Indian in the NBA."
Me: You ought to give Butter Chicken a try. I think that's Troy's favourite Indian dish. (Troy Justice, Senior director of operations, NBA India)
Robert Horry: "I will. In fact we are headed to a great cuisine right now."
Me: With your schedule being tight here, have you got around to doing much sightseeing yet?
Robert Horry: "We have some sightseeing scheduled tomorrow. All this has been sightseeing too. My family and friends back home, I gotta go places and get pictures to show them."
Here's another picture of Robert in action today. Check back tomorrow for more of the same.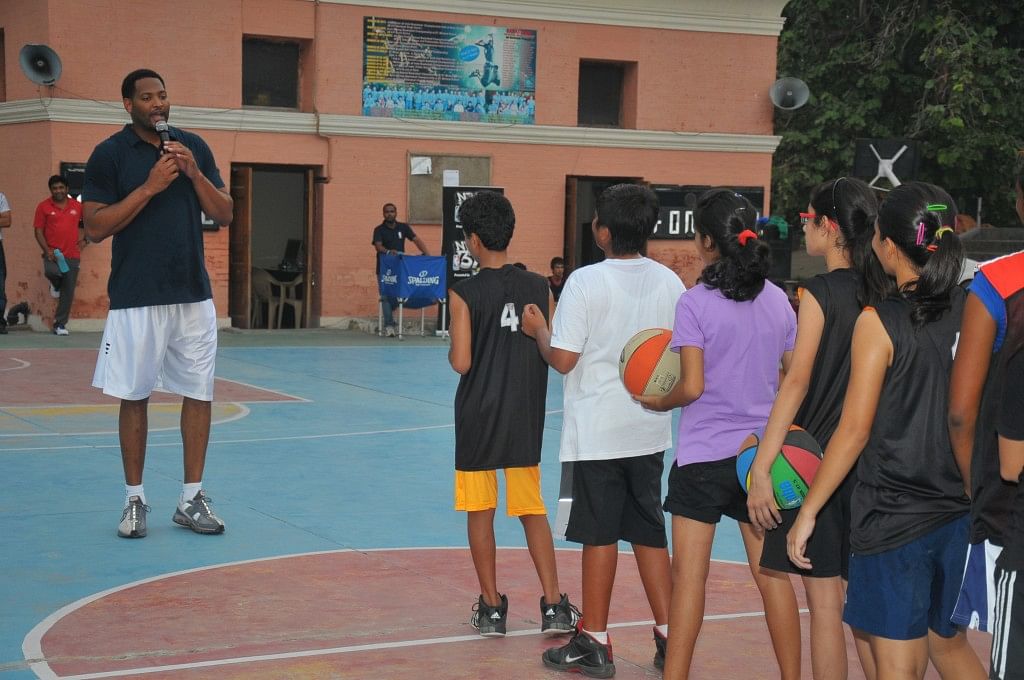 Originally published on Sportskeeda on 12 Sep 2012
Ride with Robert Horry: Sprite Basketblast at Amity University, Noida
The former Spur, Laker, Sun and Rocket is in India. Spreading the love for the game. He was over at Amity, Noida yesterday for the Sprite Basketball. After practices with kids from Love in Action on one day, followed by an even intenser session with 40 young hoopsters who made it to the Generation Adidas Clinic on the next, the 7 time NBA Champion took to Amity University, Noida to loosen up with the lucky students. The students participated in events such as a 3 point shootout, a free throw line knockout relay, the above trick shot over a bottle, and a HORSE style NBA shot challenge with Sprite and tee shirts as giveaways. There were also some high-flying dunks thrown down by Robert and Eban Hyams.
Me: Hey this must have been fun for all yesterday.
Robert Horry: "Yeah we went over to Amity Noida, just to have an interaction with the college kids and have some fun with basketball."
Me: Did anyone over there challenge you?
Robert Horry: "Haha, no."
Me: Because the last Laker in India, Pau Gasol, he played vs Divya Singh and a tiny kid, and lost. I know he didn't hold back his game on that. .
Robert Horry: "(Laughs) Ah, no. We were just having fun today. No challenges."
Me: Do you feel like Gulliver here in India? I guess back in USA a tall guy like you fits in better then here.
Robert Horry: "No not really. Its the same all over actually. Us tall guys are as out of place over at USA as we are here. But you get used to it. Ducking under doors. Having to scrunch up. It all comes naturally now, becomes second nature."
Me: You've been to a play yesterday, at the Kingdom of Dreams. Must have been fun.
Robert Horry: "Yeah it was amazing. I wish I had more time there. You just want to sit and soak it in it was such a great experience."
Me: And today was just sightseeing and shopping. You must have had a huge wishlist.
Robert Horry: "I had a wishlist but I didn't bring the money with me. Just went around window shopping. Maybe when I get some free time tomorrow I'll go around shopping."
Me: Being one of the uber clutch shooters of all time, do you get a lot of threats/boos from fans of opposing teams whom you have ticked off with your heroics?
Robert Horry: "Yeah I do get those. People come up to me and say that "Man I lost money because of you with my bets." I shrug them off. I get those reactions from fans where they talk about that shot that I made."
Me: You were a Laker, then you became a Spur. Do you get booed or cheered in LA?
Robert Horry: "You know, neither actually. People are cool with it. Yeah the fans in LA are alright with me."
Me: My favourite player is Allen Iverson. Followed by Steve Nash. If it wasn't for you, both of them may be wearing rings right now.
Robert Horry : "(Laughs) Ah you're gonna boo me now."
Me: Nah I've come to terms with it. Its great talking to you. Looking forward to doing so tomorrow.
Robert Horry: "Ok man."
Tomorrow the NBA 3X presented by Sprite tips off at Great India Place at Noida at 12 Pm. Robert will be there with the Golden State Warriors dance squad and among the performers will be Nikhil Chinapa, DJ Pearl and Hard Kaur. Be there!
Here's a pic of Eban Hyams dunking today: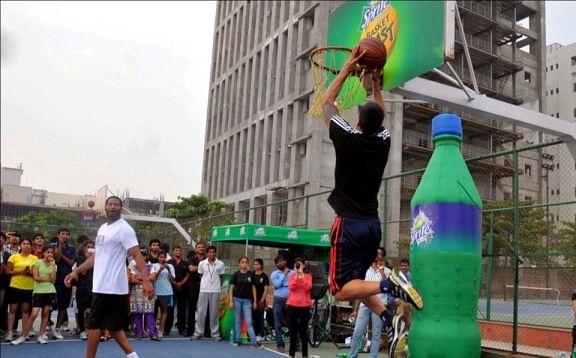 Ride with Robert Horry
Originally published on Sportskeeda on 15 Sep 2012
Third time is the charm. After the third edition of the Mahindra NBA Challenge being launched in India last year, this time around the NBA has introduced for the first time a 3 on 3 event to add to its growing presence in India. This packages half court basketball around shopping malls and is peppered with performances from India's top DJs and performers. Today saw a performance from Hard Kaur, the Golden State Warriors Dance team and a 7 time NBA Champion Robert Horry.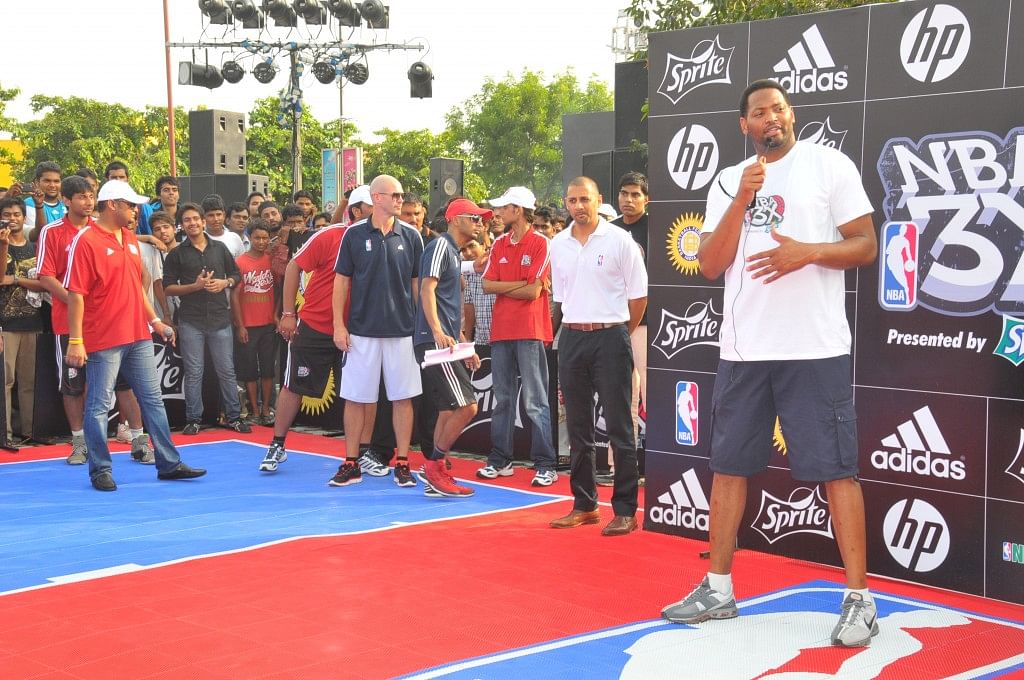 Here are a few details about this 3x tournament:
- over 400 teams expected all over India
- two age divisions, 16-18 and 18-23
This will be done in 4 cities. Noida, Hyderabad, Chennai and Mumbai. Noida is already underway. Winners from Noida, Hyderabad and Chennai will be flown into Mumbai. The national finals will be in Mumbai right after the Mumbai leg of competition is over. The National Champions in each division will qualify to participate in a 2013 FIBA/NBA Asia 3-on-3 basketball tournament.
There is something for everyone here, from the competitive hoops for the hardcore fan to the fun contests held on the fan court for the casual fan. Hard Kaur was here for all the fans in person to rock the crowd. Rap and hip hop are staples with basketball and she brought in that energy at the action today.
"We are excited to tip off NBA 3X presented by Sprite in Delhi with the help of seven-time NBA Champion Robert Horry. The event combines NBA-style entertainment, 3-on-3 basketball, and music to engage youth and build our fan base in India," said NBA India Senior Director of Development Akash Jain. "This is the largest fan program we have ever hosted in India and the wide range of basketball and lifestyle elements will provide memorable experiences for our fans."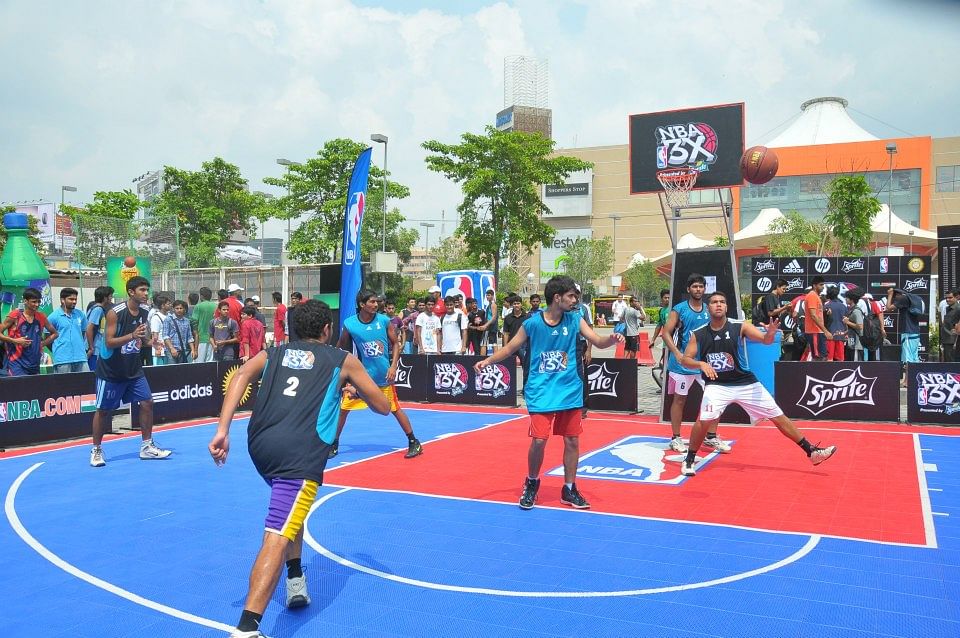 Here's today's question and answer session with Robert Horry:
Me: Hard Kaur just performed. How do you think the rap scene in India compares to what it is in the states?
Robert Horry: Its pretty much the same here and in the states. The same energy and the crowd gets into it really well and both the performance and crowd feed off of each other.
Me: The NBA 3X tipped off today. Lot of fun activities along with the main offering. India has had a lot of success in 3×3. What do you think of the 3 on 3 style compared to the five on five.
Robert Horry: There was a lot of on and off court action here today. This event was a complete entertainment package. Three on three is so much more faster paced and energetic. You can come across people playing one on one in a park, then a couple more show up and it becomes three on three, then five on five. Half court basketball, 3 on 3 gives you time to learn the basics and work on the foundation of the game. Its a high energy form of the game and a cool way to jump start basketball around here. There are no fast breaks and its just non stop action on one end of the court.
Me: What do you think India has going for it which makes it conducive for a sport like basketball to take hold?
Robert Horry: I've seen the passion. People are open to new things and want to learn. You need to keep an open mind and put yourself out there and that is the scene here. I think basketball can really become very popular here.
Me: In India, there's a scouting policy where tall players are given preference in many training academies. The Indian team is also a little thin at the point guard spot. With Yao Ming's explosion what do you think of the importance attached to height and how far is it justified to overlook players literally and figuratively when it comes to scouting?
Robert Horry: Well you know height is important but its definitely not enough. Its a lot more important to be able to play the game. You need to apply yourself with dedication to make it. Height will only get you so far. You need to be able to play. You look at Kareem, he was big and look at his skillset. He was incredibly skilled along with being a big man. Also some of the best basketball players in the world are under 6 feet tall. Sure its good to be tall but short players should be given just as much of a chance.
Me: You're 6″10. I read that you looked up to Magic Johnson for inspiration. What was the transition like for you wanting to play like a PG then growing into your role as a big man.
Robert Horry: I looked up to Magic a lot. I really enjoyed watching his game and the way he made players around him better. That's the key as a basketball player to make players around you better. I just admired his game. I never patterned my game after him. I always set out to be my own player.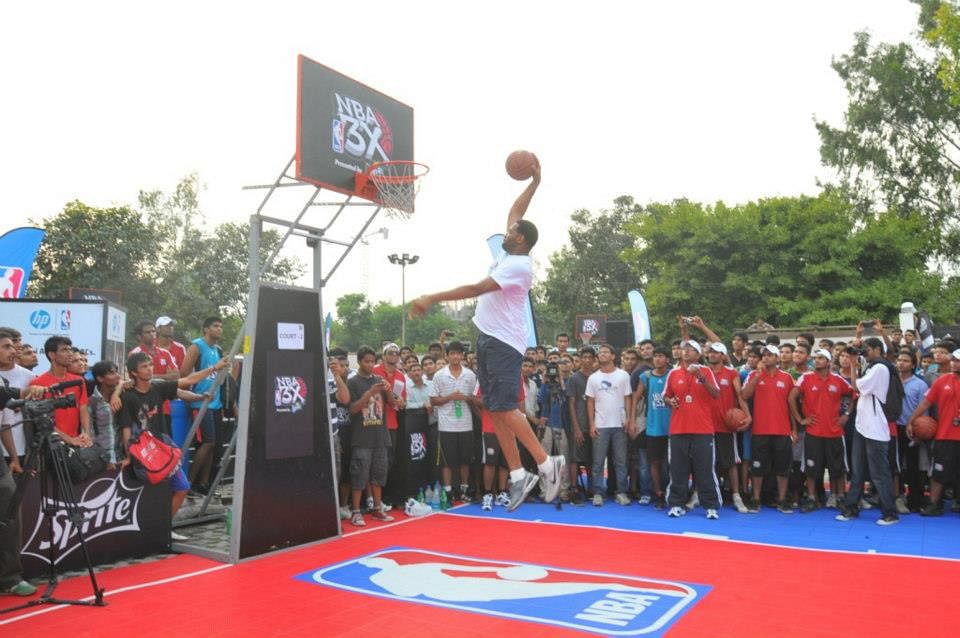 Me: As that player, do you worry when starting off cold from the field? Does it bother you later in the game that you may be cold?
Robert Horry: No I always maintain my confidence. Always feel like I'm gonna make the next shot that I take. That's how you have to think if you want to make it big. Unless you believe in yourself your teammates won't believe in you and if you are not confident you have no business being on the court. I credit my high school coach a lot he really steered me the right way.
Me: You established a reputation for being a big time clutch player early in your career. Did it bother you that even though you make big shots you still come off the bench?
Robert Horry: Coming off the bench you have to make an adjustment you gotta keep your body warm. Sitting cools you down and you need to be able to jump into the action at a moment's notice. It didn't bother me that I didn't start when we had a strong team. I'd play at the end of quarters and when it mattered I'd be there finishing things off so it worked out pretty well for me.
Me: Coach Popovic, some say he would just start Manu Ginobili off the bench so he could win the Sixth Man of the Year award.
Robert Horry: No it was good to have that firepower off the bench. We had Tim Duncan and Tony Parker in the starting lineup, both could light it up offensively. A coach has to manage minutes, a 82 game NBA season takes its toll. Coach Gregg was great, he knew what he was doing.
Me: What do you expect to see tomorrow?
Robert Horry: Today the players were fresh all came into this playing off of emotion. It'll be interesting to see how things play out tomorrow.
Me: Playing off emotion, did anyone there challenge you today?
Robert Horry: Well yeah. But I wasn't going to go hard and play to win.
Me: Yeah you have won it all. You don't have anything left to prove. Thanks for your time.
Robert Horry: Sure, thanks.
Originally published on Sportskeeda on 16 Sep 2012
Ride with Robert Horry: NBA 3X Day 2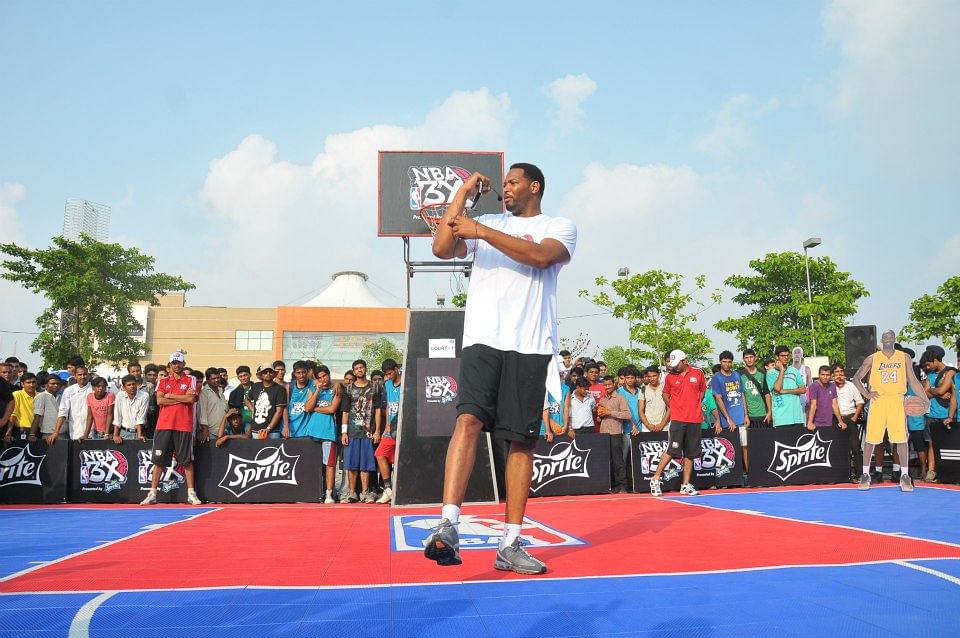 Right now Robert Horry is on a flight on his way out of India. In the brief time he spent here, he's ignited dreams which will fly higher than the plane taking him back to the States and hopefully some kids will grow into NBA prospects and fly back the same route someday.
While picturing a plane full of NBA prospects flying to the States from India may seem like it's something from an alternative dimension, the event Robert Horry came to promote does seem like it's from one too if you have only witnessed the full court five on five product. 3 on 3 is probably the most widely played form of basketball, since it only requires a few players and one half of the court.
Sid: Hey, today was the last day of the NBA 3X. How did it go?
Robert Horry: Today was fun. I had a great time. People here were very receptive of 3X3 and I can see it's something which will catch on well here in India.
Sid: Is a family vacation to India on the cards?
Robert Horry: Ah we gotta take at least two weeks out for that. Need at least that much time to enjoy and see all that you want to. I made some great friends here and would love to come back. With my kids being busy and me being occupied I don't know when we can get that time. Hopefully someday.
Sid: What's the toughest adjustment you have had to make as a player?
Robert Horry: Well the toughest thing to do is tone your game down. You come into the NBA being the man wherever you have played and when you are among the best in the business you have to realize that there are those who are better than you and adjust your game accordingly.
Sid: Your advice to aspiring hoopsters in India.
Robert Horry: You have to work really hard. Put in the time and effort. I've seen potential but that alone won't get you places. You have to put in the time and do research and try to absorb as much knowledge as you can.
Sid: Which has been the most memorable moment of your career?
Robert Horry: Ah you know people may think it's winning championships and hitting big shots, but for me, the most memorable moment in my career was being drafted. That's what a basketball player practices for. To make it into the NBA. And then being on the Rockets and getting to play with Hakeem Olajuwon, whom I've always admired and looked up to.
Sid: Which has been the most dominant team you've played for?
Robert Horry: The 2000-2001 Lakers without question. We won the championship and only lost one game that time in the playoffs
Sid: Yeah you lost to the Sixers in Game one of the NBA Finals. Led by my favourite player Allen Iverson. He is the guy on my DP, I've written a 9000 word thesis on him, and I hate you so much if it wasn't for you he might have had a ring today. Even when he went to Denver you still haunted him and the Nuggets. Your career top 10 clutch plays has multiple plays from the 2008 playoffs when you once again stood in the way of Iverson and a ring. WHY?
That was a fleeting thought in my head. Here's what I actually said and felt:

Sid: Man, it's been great getting to converse with you. Thank you for the last few days. Something I'll always remember. Have a safe flight.
Robert Horry: Thanks man. Good luck.
It has been a great few days, learning the thoughts of the man who is a proven winner on and off the court. Here's the complete recap of this series:
Ride with Robert Horry in India: Love in Action Clinic
Ride with Robert Horry in India: Generation Adidas Clinic
Ride with Robert Horry: Sprite Basketblast at Amity University, Noida
Ride with Robert Horry: NBA 3X Day 1
Here's a look at the complete entertainment package that was presented today. DJ Pearl and Nikhil Chinapa in action rocking the crowd below: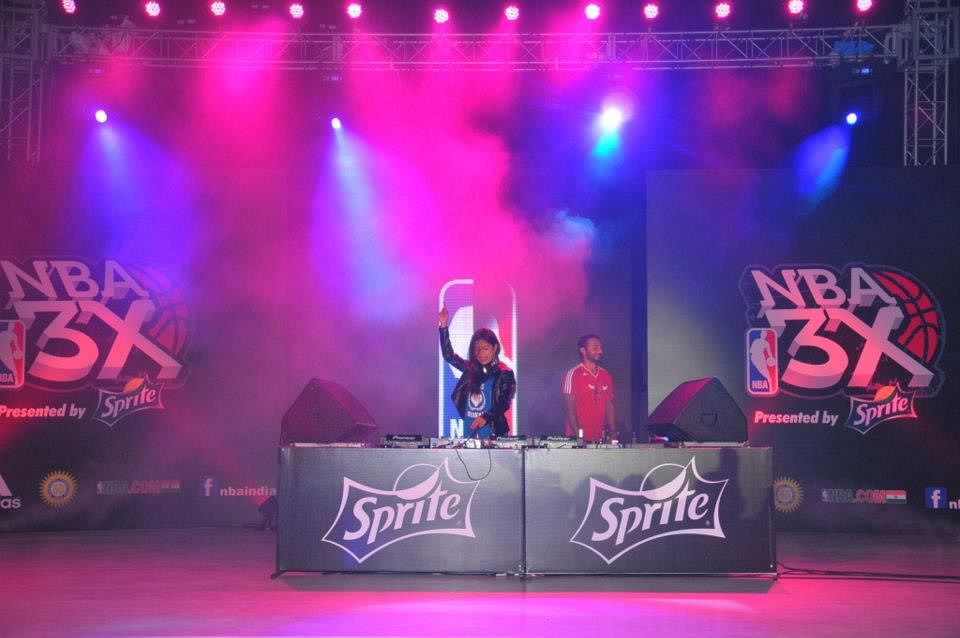 Originally published on Sportskeeda on 17 Sep, 2012