Yannick Colaco made a name for himself in the sports industry in India as the Chief Operation Officer of Nimbus Sports. Now Colaco is the Managing Director of NBA's office in India.
Colaco was a university level basketball player himself and his passion for the game shines through when he talks about basketball in India. The NBA is looking at India as a major market and Colaco will help spearhead the movement of change in the sport in India.
He took the time to talk about the NBA's foray in India and their future plans, while he is convinced that the sport can grow exponentially in India.
When you took up the assignment as the MD of NBA India, the NBA already had built a presence here. What was your initial impression of basketball in India?
We believe there is a tremendous untapped potential for basketball in India and we have a long term commitment to growing the game in the country. We have a comprehensive approach to develop grassroots programs that will help further popularise the sport, increase participation and engage fans.
We've got a great team already here in our Mumbai office, which we opened in 2011, and we expect to see continued growth in the popularity of basketball and the NBA moving forward. We have found that people are eager to play and have picked up the game quickly.
Troy Justice said some time ago, that in his guesstimate, India probably has more basketball courts than cricket fields or football fields.
One of the key things going forward for us is to help make sure that the utilisation of existing courts (and there are many) is maximised.
The NBA has been very active in growing the game in India. What are the major milestones attained by the NBA in India thus far?
With our focus being on growing the game at the grassroots level, we hosted our first event, Basketball Without Borders, in India in 2008. Since then we have conducted more than 450 different grassroots events in 10 cities. We've seen participation at our events double.
From a broadcast perspective, at the start of this season, we announced a multiyear TV partnership with Multi Screen Media. Sony Six became the exclusive partner in India and it delivers the most comprehensive and localised coverage we've ever had for the regular season. During the playoffs, every single game of the conference finals and the NBA Finals 2013 was broadcasted live in India. Our fans would have already seen some of the localised flavour in the popular promo, shot and produced locally by Sony, running on Sony Six and other MSM network channels.
We have also seen a significant increase in the NBA's digital presence in India. We've got approximately 400,000 fans following the NBA on social media across Facebook and Twitter. We've seen an increase of 450% in our Indian Facebook page yearly, which is now at over 197,000 likes. India is No. 5 on the list of countries following the NBA on Twitter outside the U.S.
Can we expect to see NBA TV in India sometime soon?
We already have four games a week broadcast live on TV in India through our partners Sony Six and a game a week broadcast live on our website nba.com. We will continue to evaluate opportunities to bring more of our product to our fans in India.
A refurbished court courtesy NBA India.
What's in store for the NBA Store in India?
As our brand grows, we will continue to explore opportunities to give our fans in India more points of engagement with the NBA. Right now we've got our merchandise available in over 200 Adidas stores. We have our video game NBA 2K13 available across India and our game ball is widely distributed through our partner Spalding.
Do you think that the popularity of basketball in India depends heavily on the performance of our national team and our place in the FIBA rankings?
As basketball continues to grow, both on the grassroots level, and at the elite level, it will gain even more popularity and momentum. We are very pleased with the direction the sport is headed and work closely with the BFI to grow the game on all levels.
One of the most popular non-cricket events in India is the FIFA World Cup and India is ranked outside the top 140 football nations in the world. As long as you get the youth to sample the sport and engage in it, the potential for growth is immense
Jayasankar Menon said that we have scope for the game at the school and college level but after that there is no great opportunity for pursuing the game.
I think what he was pointing out is that as kids are growing older they are losing engagement with the game. The most important way to build lasting engagement is in strengthening the sports grassroots program and giving youth the opportunity to continue to be a part of the game as they grow older.
There was news of Sony SIX adding more localised content, about basketball in India. Can you give us a glimpse of what's in store?
We are in the process of finalising the plans for a localised, youth and lifestyle focused basketball program with Sony and we'll announce the same soon.
You've played at the university level. You've come up through the levels in India, have you ever witnessed issues like politics holding you back?
I'm really grateful for the opportunity I've had to play the game competitively and recreationally. The only thing which held me back from being a better player was talent.
I think it must be a part of your job description to play basketball now.
I wish it was (laughs). I love this game and try and play whenever I get the time too.
What are your strongest convictions about spreading the sport in India?
I'm a big fan of what basketball can do to impact the youth of our country. Grassroots development not only helps grow the game but also instils into youth values that are inherent to basketball – values of teamwork, discipline, dedication and sportsmanship. The positive impact that the growth of the game can have on youth, aside from promoting fitness and good health, is enormous!
What adds to the potential is that basketball is an infrastructure light sport. You don't need large tracts of land or complex equipment to play the game. All you need is a flat surface, a hoop and a ball. This is especially relevant in most cities in India where land available for sporting facilities is difficult to find.
I've incessantly harped upon the easy accessibility of basketball, when compared to other sports. All you need is a ball and a hoop and you're good to go. In the space taken up by one football field or one cricket field, you could fit in tens of basketball courts. Although by comparison basketball is a relatively easier sport to find a playing area for, in order to pursue the sport in a competitive fashion at a high level you do need a proper basketball court to play on.
See if you can spot the basketball court. It's the blue and red one at top left.
To develop a sport at he grassroots level, you have to lower the entry barrier and make it as accessible as possible. The NBA in its initiative to promote and develop the sport in India has taken steps to bring some courts up to par in India. Yannick Colaco, MD NBA India, took the time to elaborate on how the NBA goes about it.
How many courts has the NBA refurbished in India and with whose collaboration?
Yannick Colaco: The NBA and its partners have refurbished six courts in India (five in Mumbai, one in Chennai). Costs vary for each site and are dependent on location, condition of court and material. We partnered with HP and BFI to build these six courts. This is part of our on-going commitment to facilitate access to the game via grassroots programs and courts.
What's the process for scouting a court/potential area for a court? What are the factors influencing the choice?
Yannick Colaco: We have a very deliberate and organised process for scouting potential sites. We will visit and review a proposed site with our partner(s) to gauge the condition of the court and to gather necessary facts (ie ownership of land, need of the local community, legacy plan – who will use the court, how often it will be used and maintenance). There are many factors influencing choice of a site, including: site location, strength of a local partner amongst other things.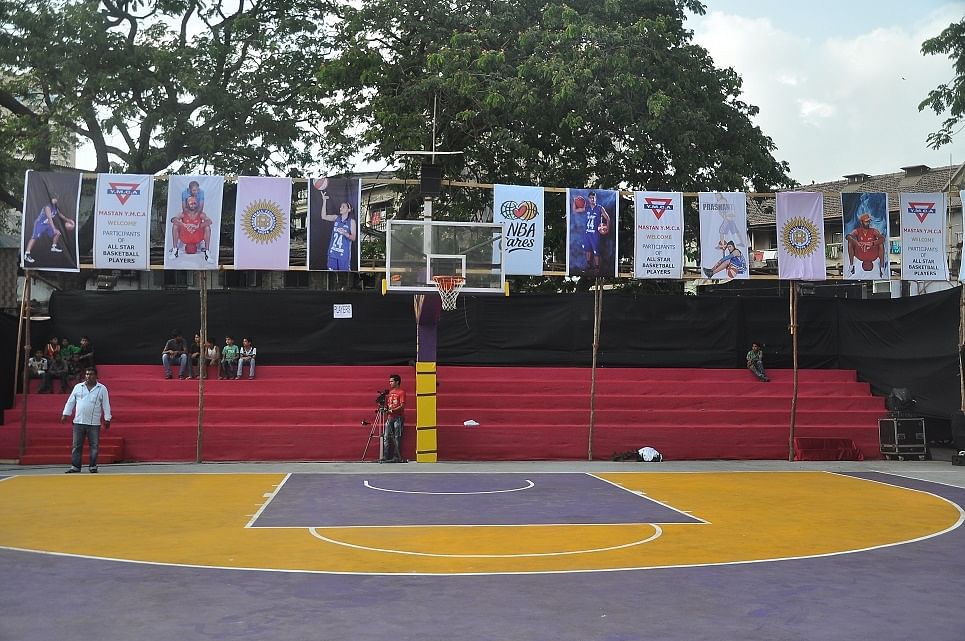 What's the process for getting permission from the relevant bodies?
Yannick Colaco: The local organization with whom we partner with is generally responsible for securing permissions. This varies case by case.
They say if you teach a man to fish, you teach him to feed himself for life. All some kids need is an introduction to the sport of basketball and there is no limit to the extent of difference it can make in their lives. Even if they don't end up playing professionally, there is a lot the game teaches you about sportsmanship, value of hard work and discipline, and helps in building character. Building courts in India, which are top notch, gives the kids here an opportunity to explore an entirely different world housed between the four lines.
A basketball court is 91'10.4″ by 49'2.6″ in dimensions. To construct a surface like that which isn't simply a concrete floor runs into expenses; which the NBA has borne.
Check out an in-depth interview with Yannick Colaco here: 'There is a tremendous untapped potential for basketball in India'