Originally published on 06 Oct 2012 on Sportskeeda
He is the first Australian to have made it to the NBA. He is also the first Australian to have won three NBA championship rings. Luc Longley has played for his country and had eleven seasons in the NBA, with the Wolves, Bulls, Knicks and Suns. He is currently in Delhi for the Mahindra NBA Challenge finals at the Thyagraj stadium. He will be conducting clinics for the teams who won the city legs of the Mahindra NBA Challenge in Delhi, Maharashtra, Punjab, Kerala and Karnataka.
Here he talks about working with the winning teams of the Mahindra NBA Challenge, his old teammate Michael Jordan, about what the players here need to do to improve their game, the similarities between India and Australia as being cricket-obsessed countries, and how things changed there and how he sees the same happening here, and more.
What is your impression of the players you're doing clinics with? They are here to compete against each other in the finals. Do they practice well together or does the competitiveness get the better of them in the clinics?
These clinics are more about demonstration where we show them how to play. Even coaches are trained here. We aren't running them through drills as much as showing them how to play the game. It's fun working with these kids. They are all trying hard. Their style of play is exciting. Flying around, flying fast. Up and down the court. It's great to watch. This is a fantastic initiative by Mahindra and the NBA to prepare a platform for people to show what they are capable of and to cultivate their talent.
If you had to suggest an area for improvement to the players you have seen here?
These kids have a good grasp of the game. They play hard and fast. If I had to offer up one criticism I'd say that they ought to slow the game down a little. Changes in pace can make a world of difference. You see a young kid who is just learning to play the piano, he will be banging away at the keys. Good players leave a depth between the notes. It's more what you leave out than what you keep in sometimes when it comes to moves on the court.
You were the first Australian to break into the NBA. India is also waiting for that. What kind of an impact did that have on the game back home in Australia when you made it big?
When I made it to the NBA, basketball in Australia was in an emerging stage like it is here in India. I can see the similarities. Once the first couple of generations come through it brings about a change. They get proper coaching and newer coaches come up. There's a surge of popularity in the game. The standard of the game improves as coaches get better resulting in better players. Progress is inevitable.
It doesn't happen immediately, or overnight. Once the exposure comes, players go from strength to strength. There are more people getting involved. People are buying basketball gear and getting into the game. The change will come here too. I can see that. That's why the NBA is taking these initiatives here. Because they can see it coming too.
From Australia to the NBA. Almost as far as India to the USA. You must have had your share of naysayers who questioned your ability to make it to the NBA since no one has done it before you, even though your father played for Australia. Did you ever come close to giving up on that dream to make it to the NBA?
I didn't really pick up basketball with the goal of making it to the NBA. First of all, I played basketball because I loved it. I loved having the ball in my hand. I made it to the Australian team then I played at the New Mexico college. Colleges in the USA are an amazing breeding ground for the development of talent. The NBA came after that. I just stuck with what I loved and it came.
You played with Michael Jordan. Do share an anecdote about him.
One thing about Michael Jordan which may end up being overlooked because he was just so good, Michael was very intense in practicing the basics of the game. He would go through the simplest of drills over and over. Jump stops, ABCs, all the basic stuff. He'd master them completely.
Most players may be more into the flashy stuff, behind-the-back crossovers and such, and you find that they can't make a left-handed layup. Michael was amazingly sound in the fundamentals of the game. He also had a lot of muscle. He was very, very strong physically.
He was the big cat in the jungle. I remember we would be up by 30 points in the 4th quarter and Michael would walk over the opposition's bench and tell them "Put in fresh players on the court. I'm getting bored here."
While playing with Michael, did you realize that you were playing with someone who would be renown as the greatest of all time?
Well we did, because he kept telling us! I'm just kidding. We knew we were looking at something amazing. With every last-second shot and all his heroics, his legend kept growing. He also established himself as one of the best defensive players in the league.
Part of it was that he worked hard at it, there was also his intense desire to shut down whoever he was guarding. He could guard positions from one to four. He had incredible mental toughness, he was very strong and ridiculously fast too. We could tell we are playing with one of the greatest of all time.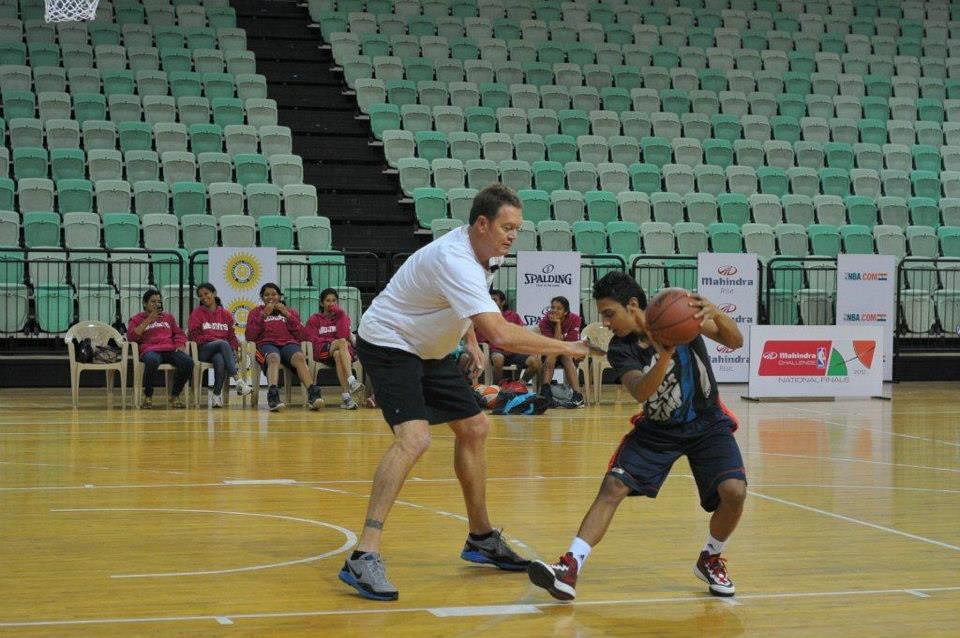 You made your mark on the international stage before the NBA. How much of a scouting ground for NBA prospects do you think the international stage to be? Do you think players have a better shot at catching the eye of an NBA scout in international competitions?
Yes, a good shot. There are over 80 international players in the NBA. Players from all over are making their mark in the league today. I think international players are more well-rounded as well. With the internet these days, if you are good you can stand out and make your mark.
Players have a good shot at being noticed for the NBA on the international stage. It's definitely on the NBA's radar as well as being a good breeding ground for talent.
The best Indian women's basketball player, Geethu Anna Jose has played a couple of seasons for the Ringwood Hawks in the Australian Big 5 league. We don't have a professional league here, so one of our best went over to Australia to play in one.
That's a really nice story. More young players should hear about her. There are a lot of kids who are just learning about basketball and looking for a chance to show their talent. A story like that would really have a positive impact on them and show them that it is possible to make it big.
Geethu Anna Jose played for the Ringwood Hawks in Australia from 2006-2008
Both Australia and India have a fascination with cricket. I detest cricket. I read that you credit cricket for helping you develop fitness at an early age. You ever get sick of cricket?
Ah you're trying to bait me now.
Heh no, just you're someone who's played basketball at the highest level. You have a clear perspective here, don't you think cricket is all too slow and boring compared to basketball?
Well, cricket is a good game. It's played with skill and good intentions. I'm with you here, it's only a matter of time before people wise up and realize that basketball is faster and more exciting. Better. In terms of popularity, basketball may soon overtake cricket. While that may sound optimistic, the idea that an athlete must only play one sport is draconian.
A lot of basketball players are multi-sport athletes, proficient in two or three sports. There's no reason why kids today can't take up both sports. Both sports have offseasons. Play cricket while the paint dries and play basketball while the kettle boils.
As a rookie, Andrew Bogut had made a careless remark that he was better than every Australian player there ever has been. How far do you think young players need to feel like they are the very best in the business to make it big?
It's hard to draw the line. Most people who are really good recognize talent where it is. He came off as a little bit arrogant, he ought to have been more thoughtful and intelligent. The upcoming players should be confident in themselves and keep making efforts to improve.
______________________________________
Atithi Devo Bhava. A hospitable Indian at heart I couldn't end the conversation without giving him some tidbit to make his stay here more enjoyable. Not knowing much about Delhi, I recommended he try butter chicken. You can't go wrong with that from what I hear. Talking to Luc made me feel in touch with the NBA and the players I've always looked up to. In some six degrees of separation sense, it was like coming in contact with a real manifestation of the dream world every basketball fan dreams of.
Yao Ming may be the template Indians point at when it comes to looking for having an Indian in the NBA. Before Yao, there was Luc Longley from Australia, a cricket-obsessed country, who made it to the NBA and played with the Chicago Bulls and won three championships.
We often point to cricket as being the bane of basketball since it hogs the media and public love, which shouldn't really stand in the way of basketball. As Luc has said, both sports can coexist.