Originally published on 22 Jan 2011 on Sportskeeda.
One of the lesser perks of playing for your country is being able to rub it in your siblings' faces. But in Divya Singh's case, her siblings are in the rare position of retorting "Yeah, so have we." Of the five sisters, the eldest has played for Uttar Pradesh and is also a NIS coach now. Of the rest, all of them have played for India.
Divya Singh- check
Prashanti Singh- check
Pratima Singh- check
Akanksha Singh- check
Currently, Divya Singh is actively involved in spreading the sport in India. Read on to find out about the former national captain's beginnings, experiences and visions for the future.
On her inspiration to take up basketball
As kids, my sisters and I used to accompany Priyanka, our elder sister, when she'd go to play ball. She later went on to play for U.P. You know how it is with siblings, if one of them plays a sport and the others grow up watching them play, it inspires them to try their hand at the game as well. Where she played, we found basketballs lying around and started practicing. I started to practice seriously around the time when I was 15 years of age.
We didn't get to watch a lot of NBA on TV, although recently I've started following it. I attended the 2010 NBA Finals at Los Angles. (root for Celtics.)
On basketball in her school
I studied at Shishu Vihar school. Later the school campus segregated with Banaras University, and I went on to do my under graduate course in Physical Education there.
My first tournament was a school level tournament. Many schools from Varanasi participated in it. Our school came out on top. I wasn't the captain of my school team earlier, captaincy was decided by seniority, and it wasn't until sometime later that I became the captain of the school basketball team.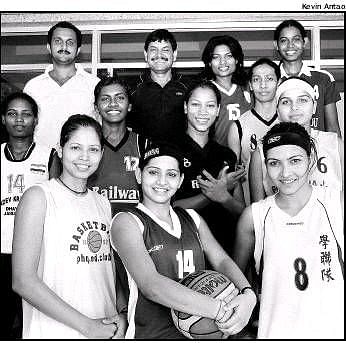 On playing for Delhi

Growing up in Banaras, we were fortunate to have access to basketball courts to practice. I started training at SAI. Basketball training was for boys but the coach, Amarjeet Singh showed a keen interest to teach girls as well. I learned the basics of basketball from him. About my personal training, a senior player, Amit Singh, whom I consider as my big brother, helped me a lot to improve. He put in a lot of effort to train me individually. In addition to practicing my skills on the court I am fond of weight training and I strongly feel that every basketball player in India should train with weights without exception.
A memorable moment for me was beating Railways in 2002 for the first time and having an impact on that game. Usually the Railways team ends up winning, this time we broke their monopoly. I still remember the margin, we won by 14 points. At present, Indian Railways have a player, Geethu Anna Jose, she's very skilled. She's also good at getting to the free throw line. If we talk about today, our team hangs with them till half time, later we get into foul trouble. Delhi team needs to have someone as strong as Geethu down in the post.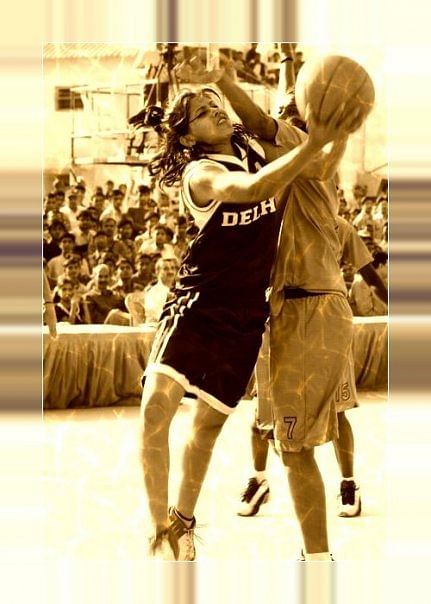 On representing India
The first time I got to represent India was in 2000 in Delhi. We played against DPR Korea. I started in this match, and although we lost, it was a great learning experience.
Our opponents, they weren't imposingly tall, we matched them height wise. But athletically they were stronger and faster. Our game was mostly at the perimeter, we played an outside game, whereas they took the ball inside more often thanks to their athleticism.
I represented India for the first time in 2000 in Delhi. The players chosen to represent the national team for a international competition usually starts training together for three months before competition. It would help if these players have more time to gel together.
In 2006, I captained the Indian team in the Commonwealth Games in Australia. It was a new experience for us, as earlier we had played Asian teams in international competitions. But in this one, there were more players of Caucasian and African descent. They played a physical game. Their players were athletically dominant. The main factor behind their big and strong build is weight training and I think coaches should actually work a lot with players to improve their physical strength.
On her playing career now
Recently we had the Asian Games, but I didn't participate as the camp was held in the previous year, and I was studying my second year of post graduation at the University of Delaware. I was also coaching the women basketball team as an assistant coach. Also I wasn't at my physical peak. In future I am not too keen on going back to playing as I feel I can make more of an impact by coaching and working behind the scenes. Perhaps, if the selectors feel differently I may take up the national uniform again. I have conducted the Indian under-16 girls team camp at Trichy which was a great experience with a lot of exposure to the workings of the camps. I'm very involved in organizing events for BFI, such as coaching clinics and championships and I plan to continue to do so.
India vs LA, India won 3-2. In Pau's defense the kid's jersey may have confused him
Her views on improving the game of budding Indian players
We have to develop infrastructure at grass root level and get budding players proper structure to develop, because mature and established players are already molded in their skill sets, it'll take a lot of time to change their game. Whereas, the younger players can grow their game under proper guidance of coaches and also work on their physique.
The NBA is doing a great job in organizing leagues at grassroots level for players. I work as one of the coordinators for the league where I, along with Troy Justice, and former Indian National player Shiba Maggon, teach new things to coaches and budding players which seems to help a lot to improve them.
My advice to the younger players is to work on the fundamentals and on their base skills, also keep improving and adapting new techniques. Stress on weight training. Always be open to absorb and add new dimensions to your game.
Troy Justice, the director of NBA Operations in India had a similar reply in response to developing talent in India: "The biggest opportunity for growth is the development of strength training for basketball players."
Her career aside from playing basketball
Recently I was involved in organizing the National Championships. It was a interesting experience, also very exhausting.
It makes me very happy to watch the growth of basketball in India. There are many hard working people involved who support the game. IMG Reliance has become the biggest strength for Indian basketball. I'd like to thank BFI General Secretary Mr. Harish Sharma for having faith in me and for giving me a chance to coach the Under 16 girls team. I'm really satisfied with their progress.
I've studied a post-graduate course in Sports Management at Delaware; it included different aspects of the game such as sports finance, marketing, etc. I hope to apply what I learned to improve the quality and visibility of the game here.
While talking to her, I couldn't help being a bit awestruck at first but she soon put me at ease reminding me that she's also just a basketball player like me (not really, none of the national team players are like me, which is probably a good thing). Thanks to Divya Singh for taking the time to share a part of her life with us. Here's hoping some of the kids in the above pic develop in her vision for them. They have a great example to follow