Originally published on 16 Jan, 2012 on Sportskeeda
Bandwagon fans ditch teams like rats leaving sinking ships causing one and all to scoff at their disloyalty. Throughout the 7th Savio Cup, I've been staunchly cheering for ONGC and Punjab against all of their opponents. As the finals drew closer, the two teams began to move towards each other as inexorably as your hands meeting to clap each other would, brushing aside all competition like thin air. The closer they got to meet each other in the finals, the further my fan bandwagon ships started to diverge in two directions and I had to make a choice. I'd be happy for either team which won the finals but had to make up my mind on whom to cheer for through the course of the game.
Whom to cheer for?
In all star games, one isn't as impressed with the players as one would be when they played lone guns on their respective teams. ONGC seems like an all-star team assembled with the best talent from all over India. Trideep Rai has been consistent in this tournament but without Vishesh and Yadwinder on his team, he blew off averaging 35 points per game in four games in the Nationals. (If anyone has match tapes of those games, do share!) This time around, none of the ONGC players had to assume their superstar mantles. They played within themselves and shared the burden on offense.
Consistancy spoils you and insulates you to greatness. ONGC were undefeated in this tournament. With the way they played, you started to expect them to win every game.
Punjab didn't have it the same. In contrast to the inflated margin of victory of ONGC's matches, Punjab were in some close contests. In spite of ample support from Amjyot, Amritpal and the rest of the team, Jagdeep Singh had to bear the burden in the clutch on many an occasion. Against SFS he had 31 points, 16 rebounds and 4 assists. On his birthday, he nearly had a triple double vs Railways in a close match that Punjab won 92-81. Before that match, the teams came together to cut his birthday cake and he was asked how many points he was going to score. He shrugged and said "I don't know. My team can score as well. I'll score as many as they need me to." True to his words, he had 9 assists and 8 boards to go with 22 points. He's played the best basketball I've ever seen in person, and I've only seen this one National tournament.
One time, when an opponent was unsuccessful in stealing the ball from him, he faked a pass to him, dropped the ball ahead and looked at him as if daring him to come get it, before starting his dribble. The defender didn't. He radiates swagger. Jagdeep Singh 'Jaggi', has been the player my eyes have been glued on.
Mainly, Punjab were the underdogs in this one so that's the boat I hopped up on when I couldn't do splits any longer.
"We want dunk!"
Throughout this tournament, the most common cheer going up from the stands has been "We want dunk! We want dunk!" One of the reasons Shooting for Success is a crowd favourite here is because they are only too ready to oblige that cheer. Outside of the slam dunk contest, Terry Fields had one of the best dunks in this tournament when he slammed home a putback off a missed shot. Their team had a few more jams throughout the tournament but if the total number of dunks and alley oop layups were to be accounted for, ONGC would probably lead the way. Vishesh had the most number of alley oop layups, once he had 4 in one game. Most of those came off Trideep's passes.
In the finals, Anoop had a double-double with 17 points and 12 rebounds and was seen on the floor a couple of times. Mostly he was up in the air dunking away. As was Murali. Trideep Rai had 16 points and 8 rebounds. Of the shots he's made in this tournament, I don't remember many (any?) long range jumpers of his hitting the rim. All net thus far. Vishesh had 9 points with 8 assists, was unstoppable on the break, zooming ahead and laying in a variety of layups or dishing it off for easy buckets. This has been a constant theme in his game throughout the tournament.
ONGC vs Punjab
"The only difference between a good shot and a bad shot is whether it goes in."- Charles Barkley
The first game between these two teams in this tournament was a lot closer. Not when it comes to the box score, ONGC won that 70-54. In that game, Punjab were getting many more good looks which they failed to convert into points. This time ONGC pressured them into many poor possessions on one end, and they were on fire on offense getting close looks at the rim.
ONGC took the lead on Yadwinder Singh's jumper and led for the entire game. By halftime they had inflated that lead to 35-18. Then they held Punjab to just 4 points in the third quarter. In the fourth quarter Punjab came into their element a little as they chipped away at the 34 point lead of ONGC. Amjyot Singh made a couple of buckets and assisted on another and Jagdeep tried to get something going by getting to the line on drives, but the comeback came too late as ONGC held on to win it 61-42.
Points in the paint: ONGC 28-14 Punjab
Offensive rebounds: ONGC 21-13 Punjab
Murali Krishna and Anoop Mishra had 7 offensive rebounds each for ONGC. There were a few putback slams in this one. This statistic isn't tracked, but the finals probably had the most number of slam dunks than any other match in this tournament, even one's featuring SFS.
Here's a telling stat: besides Jagdeep Singh(2 of 4) and Amritpal Singh JR(0 of 6), no one from the Punjab team got to the line even once. Here's another telling stat: besides Vishesh (2 of 2) and Trideep (2 of 3), no one from ONGC attempted a single free throw. Either of those stats mentioned without the other would show that team in a bad light.
At the end of the tournament, the best team won. And it wasn't close. ONGC have taken revenge for their loss in the Nationals. Congratulations to ONGC for a fine performance in the 7th Savio Cup. They've started their winning streak and it remains to be seen how long they can carry it.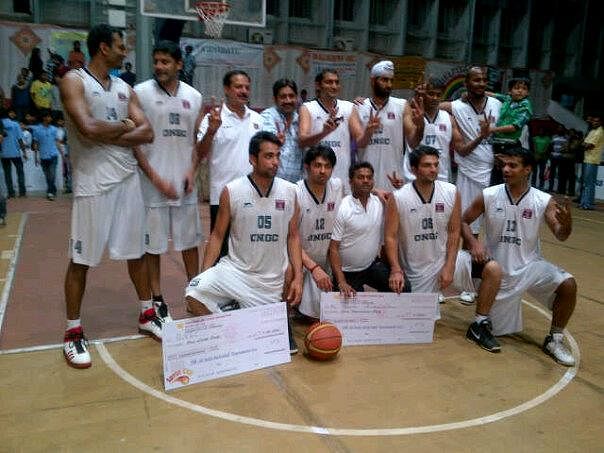 ONGC team lineup:
| | | |
| --- | --- | --- |
| Name | Jersey # | Height |
| Dinesh Kumar | 4 | 5″9 |
| Vishesh Bhriguvanshi | 5 | 6″4 |
| Vinay Dabas | 6 | 6″1 |
| S Sridhar | 7 | 6″2 |
| Anoop M | 8 | 6″6 |
| Desraj | 9 | 6″3 |
| Yadwinder Singh | 10 | 6″6 |
| Suresh Kumar | 11 | 6″3 |
| Trideep Rai | 12 | 6″3 |
| Riyazuddin | 13 | 6″2 |
| Muralikrishana | 14 | 6″8 |
| Shabber Ahmad | 15 | 6″7 |