Originally published on Sportskeeda on 2 Aug, 2011.
She lends India an image, an identity and an irretrievable ethos for basketball among women. Her exploits continue to evoke eloquent references of class, competence and craft.- The Hindu: Geethu Anna Jose- India's trump card
She's one of the best players in all of Asia. Wrecking havoc in the low block on both ends, scoring at will, gobbling up rebounds and swatting shots like flies. Check out her numbers from the first two games in the William Jones Cup: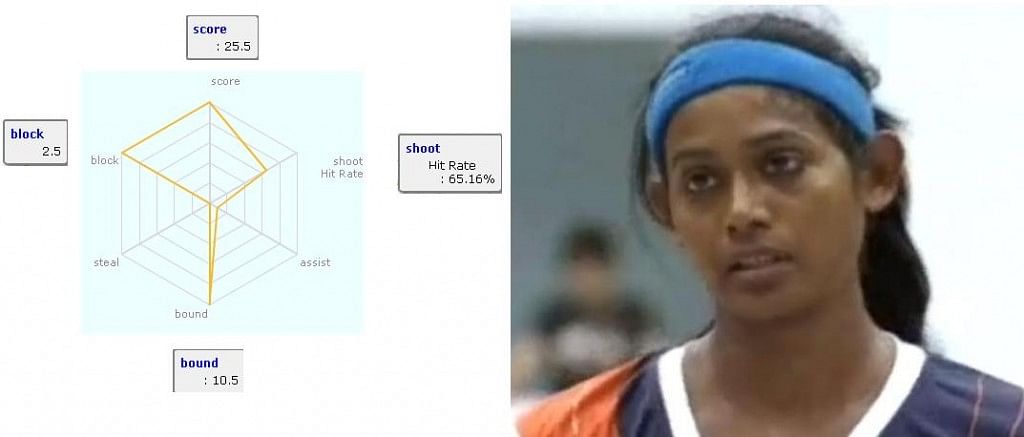 Geethu Anna Jose's averages in the 1st two games of William Jones Cup
A brief background:
Geethu Anna Jose was the captain of India national basketball team (Women's). She joined the Southern Railway in 2003. She's played for the Ringwood (Australia) Hawks during the 2006, 2007 and 2008 Big V seasons and while she was selected to play for Dandenong in the Australian WNBL 2008/9 season; she did not take up that offer. She's also tried our for three WNBA teams recently.
Quotes from Geethu Anna Jose:

"There is no problem with motivation. I want to improve myself in every single game. Every time I step on the basketball court, I want it to be the best game of my life. I want to become a better scorer and a better player."
On our team:
" I think our team has improved in the last few years. Whenever we go abroad to play in championships, other players and coaches say that the team has improved. And now that our players are able to be on the court for a longer period of time, shows that we have really improved."
(True words. Check out our near comeback in the 4th quarter vs Taiwan WUG)
On the game in India:
"While as of now, the treatment we get from the authorities and the government is pretty decent and it is getting better over the years, but in India all the sports don't get equal attention. All the sportspersons should be given ample facilities and all the sports should be promoted equally so that India shines all around the world."
Quotes about Geethu Anna Jose:
Here are some testimonials from the who's who of Indian basketball, at the time when Geethu Anna Jose was invited for WNBA tryouts:
"As her team mate, I wish her all the luck for the trails. I still remember we had a great combination in 2007 ABC in Korea and we won all the 6 games."
- Divya Singh
Former Indian team captain and a teammate of Geethu in international games and opponent in domestic games. Currently one of the coaches of the Indian junior boys team.
________________
"Its all about turning potential into performances which Geethu was consistently doing on top stages of Indian basketball for good number of years so its a very good step towards the next stage for her."
"Wish,pray and hope for her success in the trails and that would be a great honour and proud moment for all Indian Basketball Family members and a moment to cherish for Women's basketball in India with pride!"
- Sakthi Rahul
Vice prisedent of Cauvery Ammal Basketball Club, Tamil Nadu.
________________
"I have seen this girl joining the Indian team, sitting on the bench and eventually making her place on the court. We use to call her 'puncture' due to her body strength being lesser. But the way she marked her presence in the history of basketball in India is remarkable. She believes in the team and that's why when she lost her dad a few years back she still came back after her dad's death rites to be with her team.
"She's a very humble and kind hearted girl who is also much disciplined, and works very hard. I wish her good luck and I know she will make the whole basketball fraternity proud and pave the road for other players."
- Shiba Maggon
Former National team captain. Also a FIBA referee and a coach.
________________
"I have seen her when she just started the game long time back. Then she stepped into Southern Railways. I know Prasanna (his wife, former Indian team captain) has done a lot to train her. The quality I like in Geethu is that she is simple and hard working. She has always maintained high goals. We wish her all the very best to achieve glory."
- Jayasankar Menon
Former Asian all star and Indian team captain
________________
Pics from the William Jones Cup: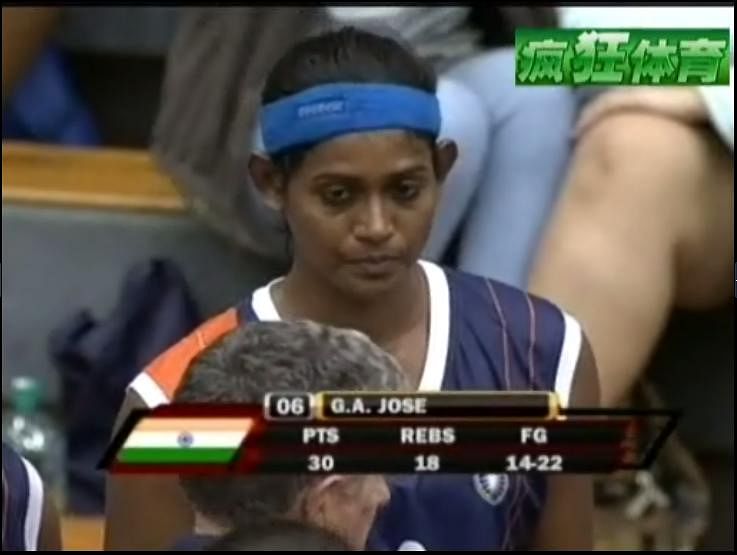 One for the ages. She finished with 34 points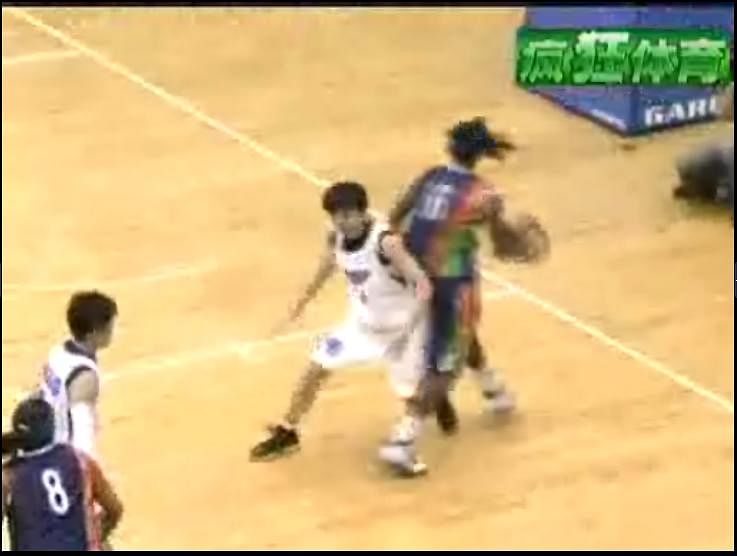 Textbook spin move. The defender is still wondering what happened.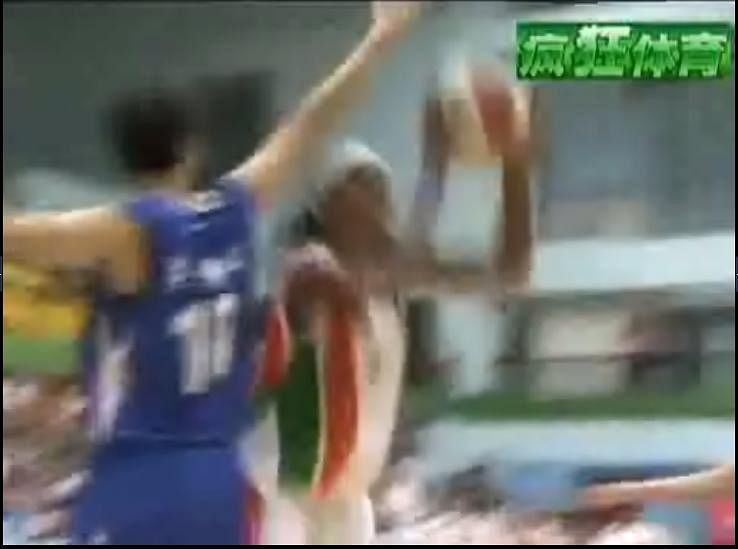 'Let's foul, make her earn it from the line.' Good luck. That's an And 1.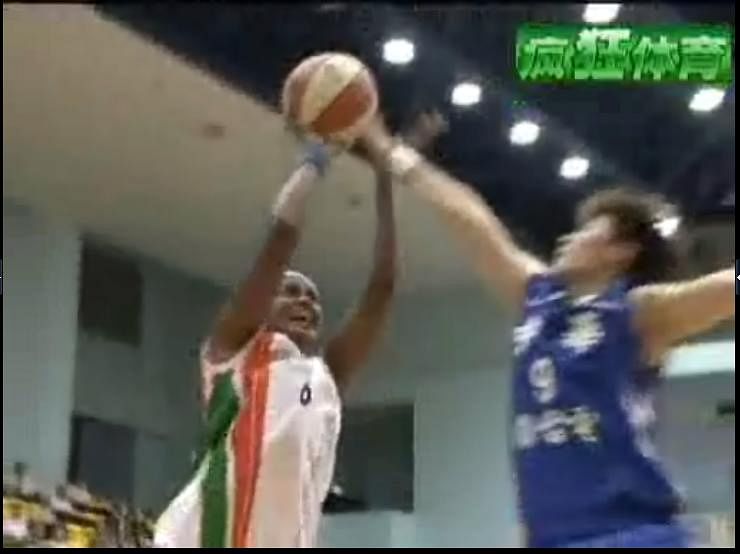 'This time hit her shooting arm.' No use, another And 1. Why do you even try?
_____________________________________
She had 34 points, 18 rebounds and 4 blocks in the first game alone. Her numbers in the second one were lower as the stifling defense of Chinese Taipei made it difficult for her to get going and for the team to get her the ball in good position. She did shoot a high percentage in spite of it. People are quick to assume that the Indian team is all about her, it is true that she carries the team night in and night out as much as a superstar can. The team around her makes it possible for her to dominate, deferring to her superior play and helping her to play unfettered at her potential. The team makes the star too.
While India have lost both their games thus far, the play of the team has been improving steadily. Here's looking forward to many great years of basketball from Geethu and the Indian team.